Tea Tree & Charcoal Conditioner Bar
Regular price

Sale price

$19.95
50 g
A nurturing conditioner with a lightweight feel for oily hair types.
Benefits
Reduce irritation and remove loose flakes.

Smoothe the follicles and restore shine. 

Nurture the hair shaft while maintaining a lightweight, non-greasy feel.

Balance oils with the cleansing effect of activated charcoal.
Full Description

Remove loose flakes with a pH-balanced conditioner that helps to moisturize and balance combination to oily hair. Organic cocoa butter creates a rich, creamy texture as natural conditioners soften and smooth the hair for easy combability. Quinoa protein will rehydrate the hair, and vitamin B5 locks it in.

Free from sulfates, parabens, synthetic fragrance, synthetic preservatives, gluten, and phthalates, this cruelty-free bar is the perfect fit for homes with multiple sensitivities.

Best for: Oily Hair/Tips
How To Use

Cleanse, rinse, and leave the hair wet. Massage the conditioner bar over your hair to the tips. Rinse hair while massaging scalp to ensure the product is fully rinsed from your hair.

This product does not create a lather and is very concentrated, so you can use less than you usually do. To get the longest life out of the bar, pat dry with a clean cloth and store away from water while not in use.
Ingredients

Cetyl Alcohol: Certified Sustainable Palm derived fatty alcohol that moisturizes the scalp & hair
BTMS-50: Rapeseed derived conditioner that reduces tangles & smoothes hair
Organic Cocoa Butter: Gives a rich, creamy texture that nourishes the scalp & hair
Citric Acid: Ensures pH balance and the maintenance of a healthy scalp
Essential Oils: Bergamot, Organic Rosemary, Organic Lavender, Organic Tea Tree
Activated Charcoal: Aids to reduce excess oil production
Grapeseed Oil: Helps nurture the hair shaft while maintaining lightweight and non-greasy feel
Rosemary Extract: (antioxidant): Helps keep the raw ingredients fresh
Quinoa Protein: Restores hydration to the hair due to its high amino acid content
Vitamin B5: Helps retain moisture in the hair and protect it from the elements
Geogard Ultra: Natural preservative
Hurry, only 4 items left in stock!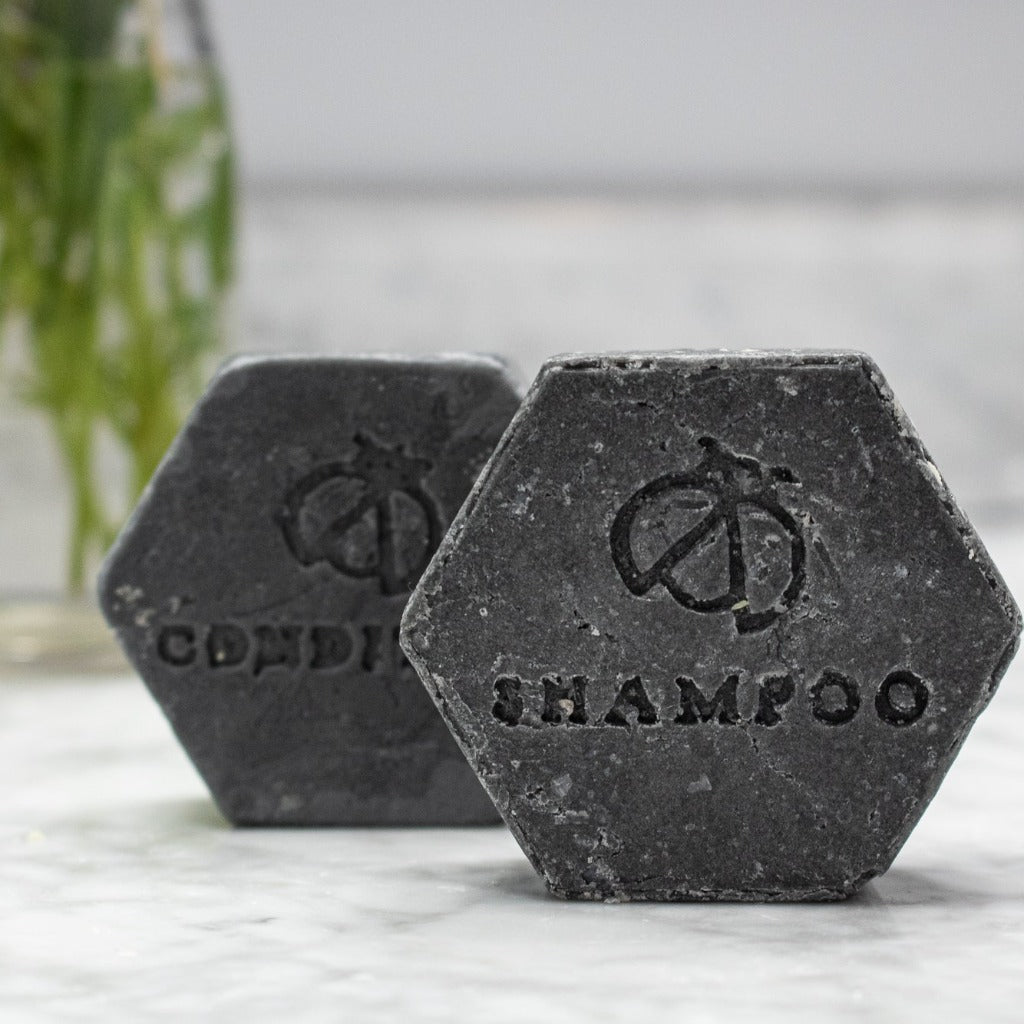 No more flakes
I was looking for a shampoo and conditioner with natural ingredients that would help my scalp feel less itchy and be less flaky and the Tea Tree & Charcoal Shampoo Bar and Conditioner Bar work perfectly for this. Great for traveling while not worrying about spillage as well. The bars get harder to use as they get smaller, but I was able to work them into a new bar to use them all up. Very happy with these products!
Here's to a comfortable scalp and no-flake confidence!! We couldn' t have described our hope for these bars any better than the experience you've had, Laura! Thank you for raising the bar with Bubbles & Balms and coming back to share the story with others. You rock <3
Tea tree &Charcoal conditioner
This does a great job at softening and keeping my hair strong and feeling great. I also like the smell it is clean and fresh but natural.
Thank you, Rebecca, for this great review of our Tea Tree & Charcoal Conditioner Bar! We are so happy that the vitamin b5 and hyrdrolized quinoa are working wonders on the strength and feel of your hair :)
Take good care!
Tea Tree and Conditioner bar
Mainly bought it for travel purposes, however, I was pleasantly surprised how well it works. The shampoo bar lathers well and the conditioner left my hair feeling soft. ❤️
Thank you for choosing to travel with our Tea Tree & Charcoal hair care bars, Darlene! We're so glad that they exceeded your expectations with the lather and how soft they left your hair....you made our day! Take Good Care :)
Absolutely amazing product! Highly recommend!
We appreciate this awesome review of our Tea Tree & Charcoal haircare bars, Samantha <3
We're so happy it's helping you protect your locks and hit your natural and waste-free haircare goals!!
Softest hair imaginable
Let me just start off by saying that my allergies are so numerous, the joke is that I'm allergic to life. It's very hard to find something for me that's affordable, smells wonderful and does the job. This conditioner bar is amazing 🤩 and I'm supporting a small local company instead of one of the giant megas. It's a win-win all around.
We will be ordering more. Bubbles & Balms, you're on my Christmas wish list!
Thank you, Teresa, for supporting small and local! We are so appreciative that you took the time to leave this great review for our Tea Tree & Charcoal Conditioner Bar
We make every product with your skin in mind. We have numerous allergies, eczema and sensitivities in our family, and know the struggle of finding the combo of 'works, smells great and is affordable!' That is 100% why we are here. We are so happy that our paths crossed and we were able to get you a 5-Star experience
Take Good Care!