Tea Tree & Charcoal Bar Soap
Regular price

Sale price

$6.95
112 g
Restore your skin by removing unwanted oils without stripping moisture for a bright and healthy appearance.
Benefits
Brightens the appearance of your skin.  

Calm red and oily skin.

Reveal cleansed & smooth skin.
Full Description

Feel confident as the activated charcoal binds with dirt and oil to gently clear the pores and promote a balanced appearance. Organic & fair trade shea butter and coconut oil add moisture to the lather, leaving you with a nourished feeling. Rejuvenate your complexion with organic evening primrose and golden jojoba essential oils. Breathe deeply and allow lavender and tea tree essential oils to help calm your senses. This restorative soap bar will help you cleanse and smooth, leaving you with a bright and healthy glow.
How To Use

Wet the bar and lather in your hands prior to applying the bar to your face or body. Rinse completely before toweling off. Pat soap bar with a towel to keep dry in between uses.
Ingredients

*Sodium Cocoate (Coconut Oil)
*Sodium Olivate (Olive Oil)
*Sodium Grapeseedate (Grapeseed Oil)
*Sodium Shea Butterate (Shea Butter)
*Sodium Palmate (RSPO Certified Sustainable Palm Oil )
*Sodium Jojobate (Jojoba Oil)
*Oenothera Biennis Oil (Evening Primrose Oil)
Citrus Bergamia Fruit Oil (Bergamot Essential Oil)
*Rosmarinus Officinalis Leaf Oil (Rosemary Essential Oil)
*Lavandula Angustifolia Oil (Lavender Essential Oil)
*Melaleuca Alternifolia Leaf Oil (Tea Tree Essential Oil)
Activated Charcoal

*Organic.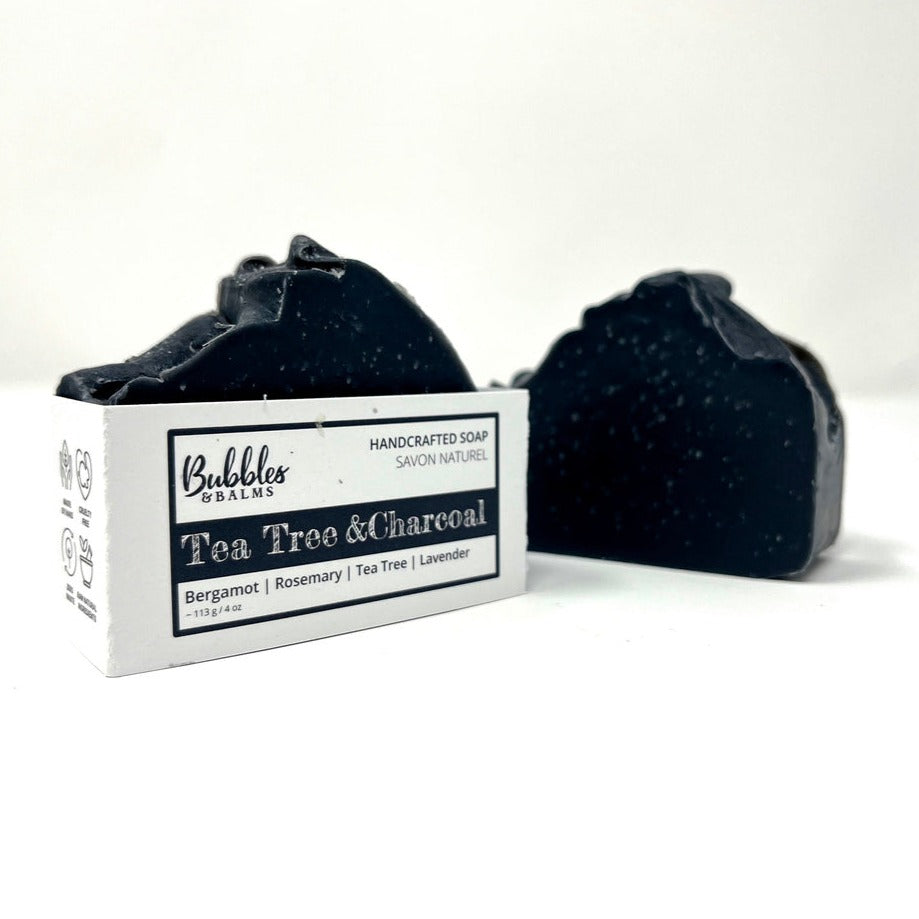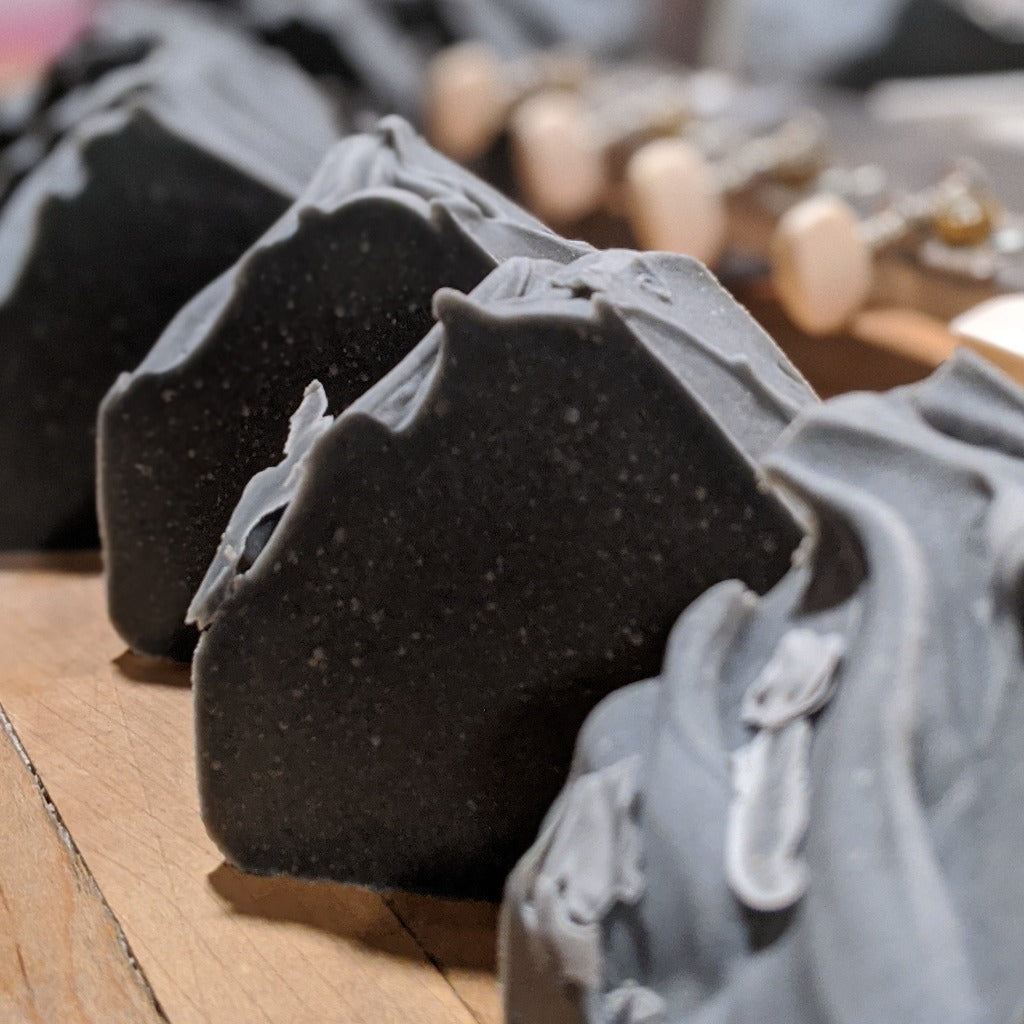 Cleared my skin
This soap, alongside the beat the breakout cream, saved my face and cleared my skin. I am now using it for my teenager and pre-teen to help heal and prevent breakouts.
Thank you for sharing our Tea Tree & Charcoal bar with the people you care about! Can't wait to hear how much they love it
Take Good Care!
Best product for acne
I've had hormonal acne for a few years now, I've tried a lot of different product but none were as effective as this one. I wash my face twice daily and my acne has decreased tremendously.
Thanks for this great review of our charcoal bar soap, Chantal - isn't it amazing what a natural, daily cleansing bar can do for your skin?!
So happy you are reaching your natural skincare goals while raising the bar with us!
Take good care :)
Best the breakout
Love it! Smells great and feels great on my skin
This is great to read Michelle! Smell great, feel great, and do good things...it's the perfect addition to any daily-care routine!
I love this product. I've been using it for three years now and I haven't had a breakout since I started using it. It's very gentle on the skin as well.
We're so happy to hear that you are enjoying clean and clear skin with this bar! Thank you for sharing Tina