Coconut Orange Shampoo Bar
Regular price

Sale price

$16.95
75 g
Lighten up any day with this luscious zero-waste shampoo bar for cleansing balanced and combination scalp and roots.
Benefits
A burst of orange and coconut aromas in every wash.

Enjoy up to 60-90 fresh-smelling washes thanks to antioxidants from herbal extracts.

pH balanced, gentle, and colour safe care for roots and scalp with sensitive needs.
Ditch the plastic in homes with sensitivities.
Full Description

Enjoy uplifting aromatherapy with organic orange essential oil with every wash. Protect your scalp and roots with orange peel wax. Let the smiles linger as you breathe in coconut and orange without a plastic bottle in sight.

Free from sulfates, parabens, synthetic fragrance, synthetic preservatives, gluten, and phthlates, this cruelty-free bar is the perfect fit for homes with multiple sensitivities.

Best for: Balanced/Combination Scalp & Roots
How To Use

Wet hair. Lather shampoo bar in your hands. Once you have a thick lather, set bar down and massage the lather over your scalp and roots, working towards the tips. Massage scalp while rinsing for a thorough rinse. For best results, follow up with one of our conditioner bars.

Get the most out of this shampoo bar by patting dry with a clean cloth or towel and storing away from water while not in use.
Ingredients

Sodium Cocoyl Isethionate: Coconut derived cleanser
Sodium Lauryl Sulfoacetate (SLSa): Coconut derived cleanser
Cocamidopropyl Betaine: Coconut derived cleanser
Cetyl Alcohol: Certified Sustainable Palm derived fatty alcohol that moisturizes the scalp & hair
Citric Acid: Ensures pH balance and the maintenance of a healthy scalp
Organic Cocoa Butter: Gives a rich, creamy texture that nourishes the scalp & hair
Jojoba Oil: Helps nurture the hair shaft while maintaining a balanced oil/sebum production
Essential Oils: Organic Orange, Benzoin Resin
Natural Flavour Oils: Coconut
Orange Wax: Gives a delicately sweet orange aroma & natural colour
Rosemary Extract: (antioxidant): Helps keep the raw ingredients fresh
Geogard: Natural preservative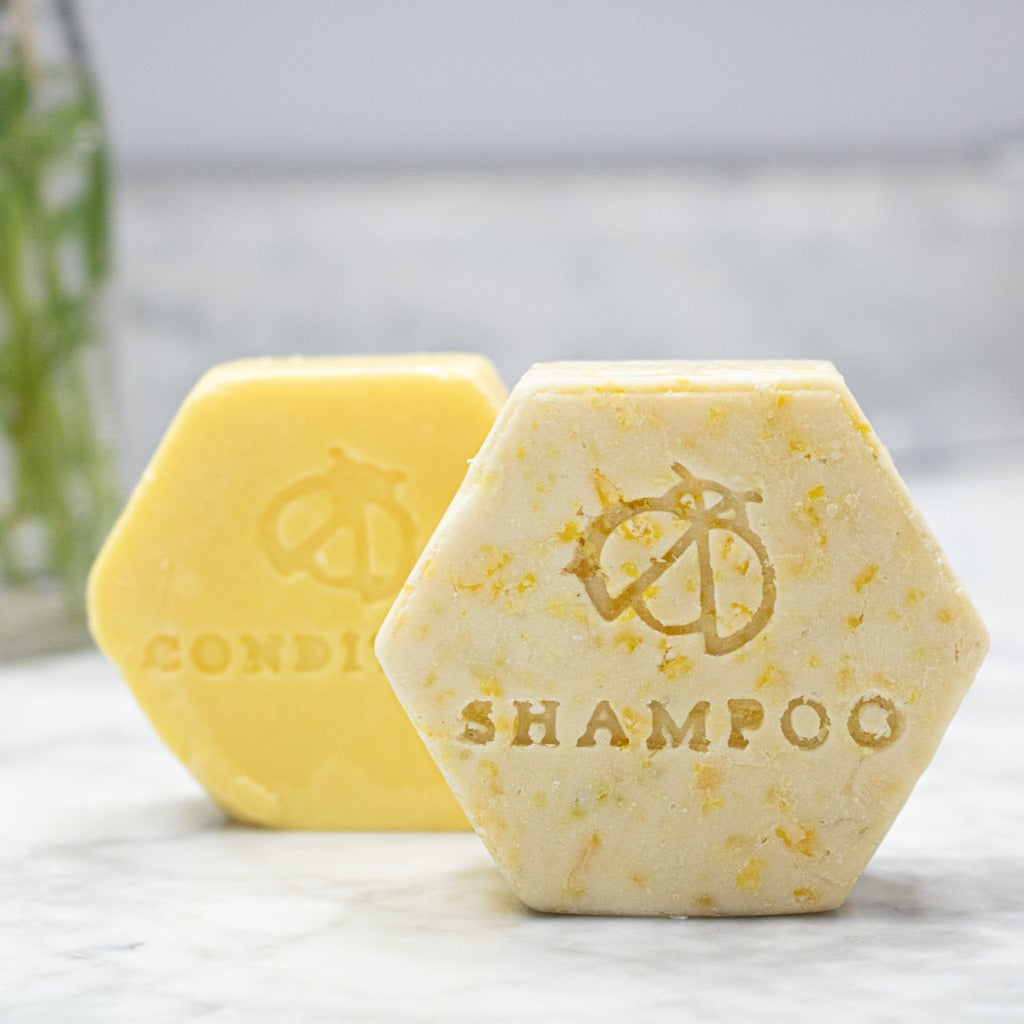 Great Product!
I've been using this for almost a year now and love it. It foams up lovely, rinses out clean and leaves my hair soft and shiny.
Thanks, Kris, for raising the bar with Bubbles & Balms and coming back to share the good word with others!! Our lightweight lathers give you confident hair without any buildup or irritating surfactants and the Coconut-Orange is an uplifting aroma for any time of year :) Thank you for sharing your 5-star experience to help comfort others making the switch!
Fantastic
Absolutely love this shampoo bar! I used to have issues with liquid shampoos leaving residue in my hair no matter how hard I scrubbed. These bars do the trick! I use the coconut orange conditioner as well.
Yayyyy for no more waxy buildup!! Our Judith has thick + curly hair and knows the waxy buildup of soap-based shampoo bars all too well! We're so happy that they are rinsing clean and working hard to raise the bar for you, Paulette! Take good care :)
A bit of a journey, but finally found the perfect shampoo bar
Several years ago when I decided to switch to a shampoo bar to be kinder to my body and the environment I started by purchasing a shampoo bar from Bubbles and Balms (as I had already used many of their products and trusted them completely). I knew there would be a transition period and connected with Judith during the process for advice but I found that the results were not great even using a ACV rinse. Determining that our hard water likely contributed to the less than ideal results I then sought out shampoo bars from other companies. I found one that seemed to work better but when Bubbles and Balms introduced their new formula shampoo bar I knew I had to give it a try. Long story short I am now on my 4th shampoo bar and couldn't be happier. The luxurious bar leaves my hair feeling squeaky clean, shiny and soft. Highly recommend! Thanks for another great product!
Hi Shannon! We are so happy to have made this journey with you and arrived at such a positive destination <3 We were certain we would find the perfect solution for your hard water and zero-waste hair goals! Thank you for being patient and trusting us as we worked through the challenges and got you to hair's happy place :)
Take good care!
Fantastic Bars!
Love these! Mu entire family uses these and even the kiddos are obsessed with them! Super easy to use and last a lot longer than you would think. My recommendation is to make sure that you use a soap caddy with these. They last AGES this way! Def get your money's worth!
Thank you Robin for raising the bar with Bubbles & Balms! We're super excited to hear that the whole family is getting in on the bar-raising experience and are loving every minute of it!! And you're right, a shower caddy or anything that helps you store the bar away from water while not in use will give you up to 90 shampoos per bar. We're all about creating value for families looking to better each day in their personal care! Oh, and thanks for the review ;)
Take good care!
Love
I have tried many natural shampoo bars and this one is my favourite because of its sweet smell and how it cleans my hair
Hey Natasha! We love hearing that our Coconu Orange Shampoo Bar is living up to its reputation as one of the best-smelling and most effective bars on the market! Thanks for popping by with the great review.