Bath Bombs
Regular price

Sale price

$5.95
113 g
Our long-lasting, moisturizing bath bombs rinse easily after softening your skin and fizzing up your bath with the best natural aromas.
Benefits
Ease restlessness into a mindful state.  
Breathe in the calming properties of essential oils.
Get smooth and soft skin from natural clays and minerals.
Enjoy bath time without the micas, gluten, microplastics, glitters, dyes, sulfates, parabens, or phthalates!
Full Description

Ease your mind and soothe your body. Enjoy a restorative soak with the aroma of pure essential oils filling the air and natural clays and minerals softening your skin.

Whether you're craving the soothing benefits of Cedar & Lemongrass, a sense of calm from Lavender, the energizing qualities from Sweet Citrus, the tropical oasis scents from Coconut-Orange, clarity with Eucalyptus & Geranium, or full body rejuvenation from Spa Day, there's a bath bomb for every bathing experience.

All of our bath bombs are handcrafted in Canada with good care.
How To Use

Fill your bathtub with lukewarm to warm water. Lower the bath bomb into the water; close your eyes as you listen to the slow fizz, and enjoy the first hints of aroma. Lie back as you breathe deeply and enjoy this chance to unwind and care for body and mind.

Once done bathing, stand and massage skin lightly prior to patting dry. To get the best results for dry skin, follow up with an oil-based moisturizer, salve or balm to lock in hydration.

Save our shipping box to store the products and keep your bath bombs fresh and dry.
Ingredients

In All Bath Bombs

Sodium Bicarbonate (Baking Soda)
Citric Acid
Kaolin Clay
*Helianthus Annuus Seed Oil (Sunflower Seed Oil)
Magnesium Sulfate (Epsom Salt)
Sodium Lauryl Sulfoacetate (SLSA)
Sodium Cocoyl Isethionate (SCI)
* Hamamelis Virginiana (Witch Hazel)
D-Alpha-Tocopherol (Vitamin E)

Cedarwood & Lemongrass

*Cedrus Atlantica Oil (Cedarwood Essential Oil)
*Cymbopogon Flexuosus Oil (Lemongrass Essential Oil)
Illite Clay (French Green Clay)
Naturalis Powder (Indigo Powder)

Eucalyptus & Geranium

* Eucalyptus Polybractea Leaf Oil (Eucalyptus Essential Oil)
* Pelargonium Graveolens Plant Oil (Geranium Essential Oil)
* Salvia Sclarea Flower Oil (Clary Sage Essential Oil)
Naturalis Powder (Indigo Powder)

Lavender

*Lavandula Angustifolia Oil (Lavender Essential Oil)
Kaolin & Illite Clay (Brazilian Purple Clay)

Coconut-Orange

*Citrus Sinensis Peel Oil (Sweet Orange Essential Oil)
Styrax Benzoin Resin (Benzoin)
Natural Coconut Flavour Oil
Illite Clay (Red Clay)

Spa Day

*Lavandula Angustifolia Oil (Lavender Essential Oil)
*Eucalyptus Polybractea Leaf Oil (Eucalyptus Essential Oil)
*Rosmarinus Officinalis Leaf Oil (Rosemary Essential Oil)
*Mentha Piperita Oil (Peppermint Essential Oil)

Sweet Citrus

*Citrus Sinensis Peel Oil (Sweet Orange Essential Oil)
Citrus Racemosa Peel Oil (Grapefruit Essential Oil)
*Citrus Limon Peel Oil (Lemon Essential Oil)

*Organic

**Plant-Based Surfactant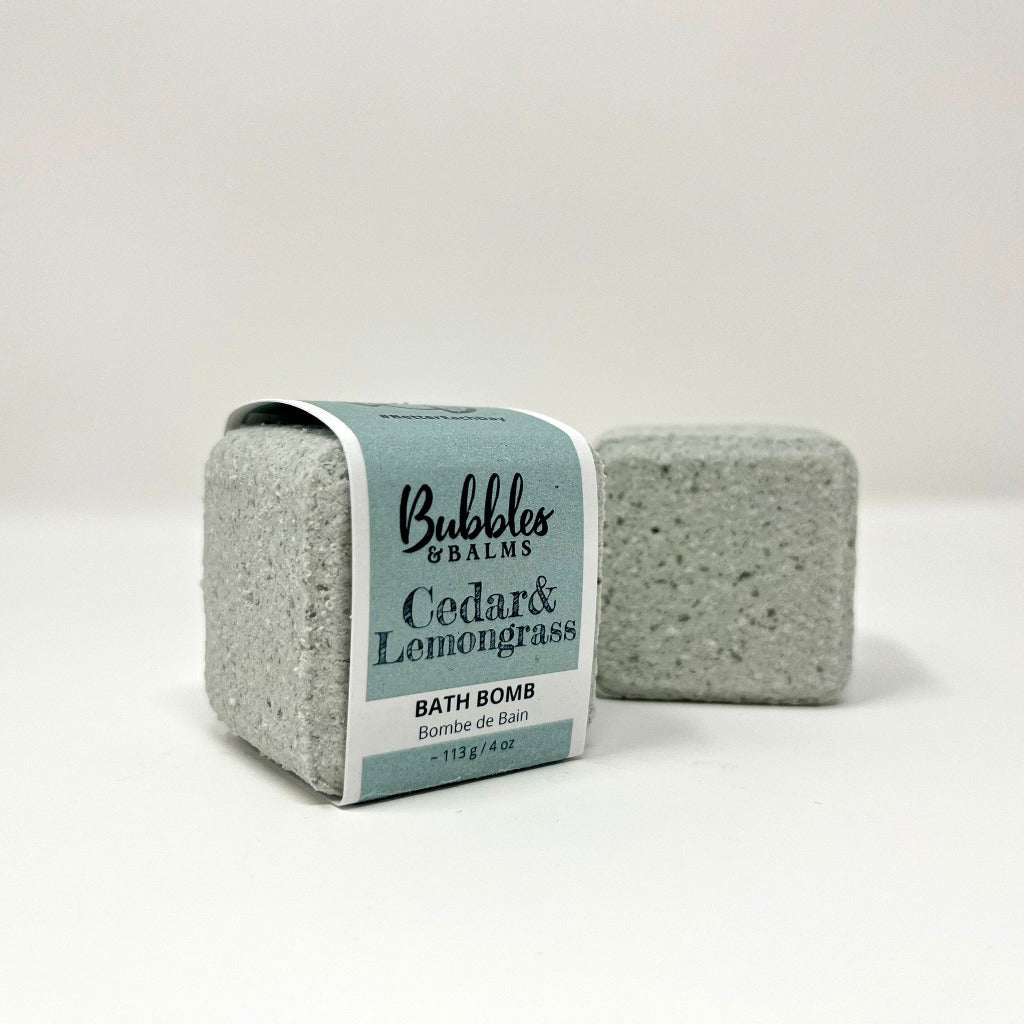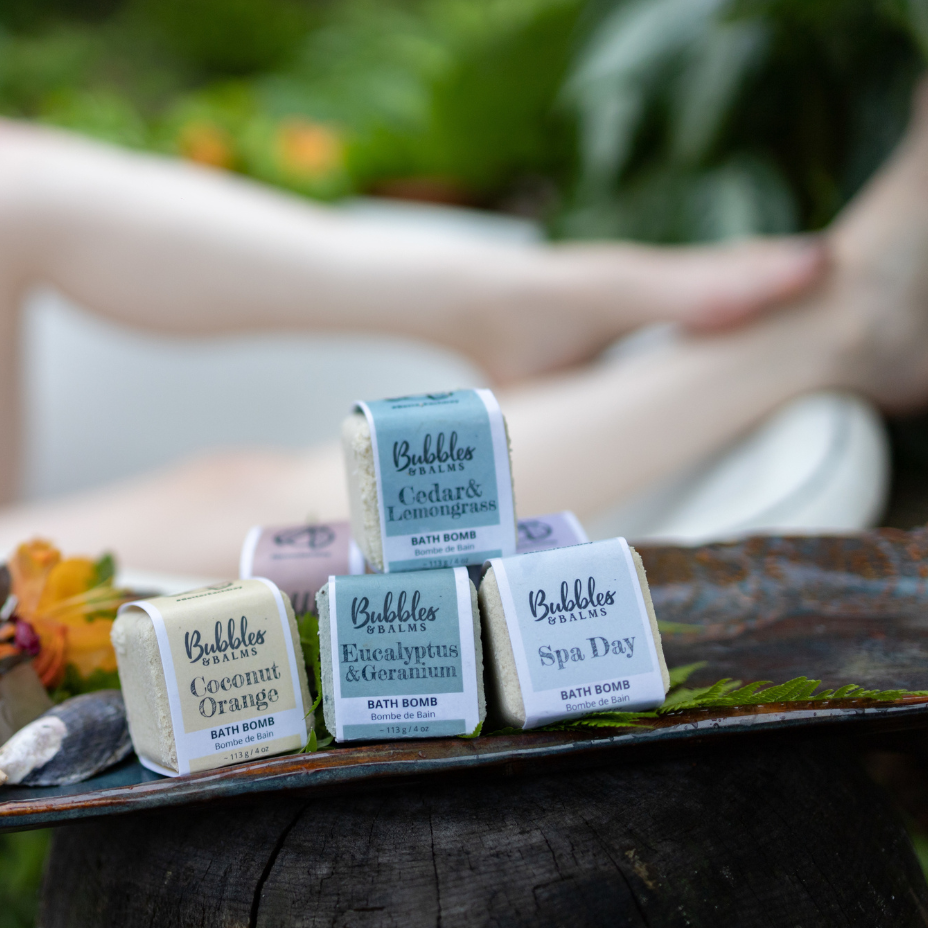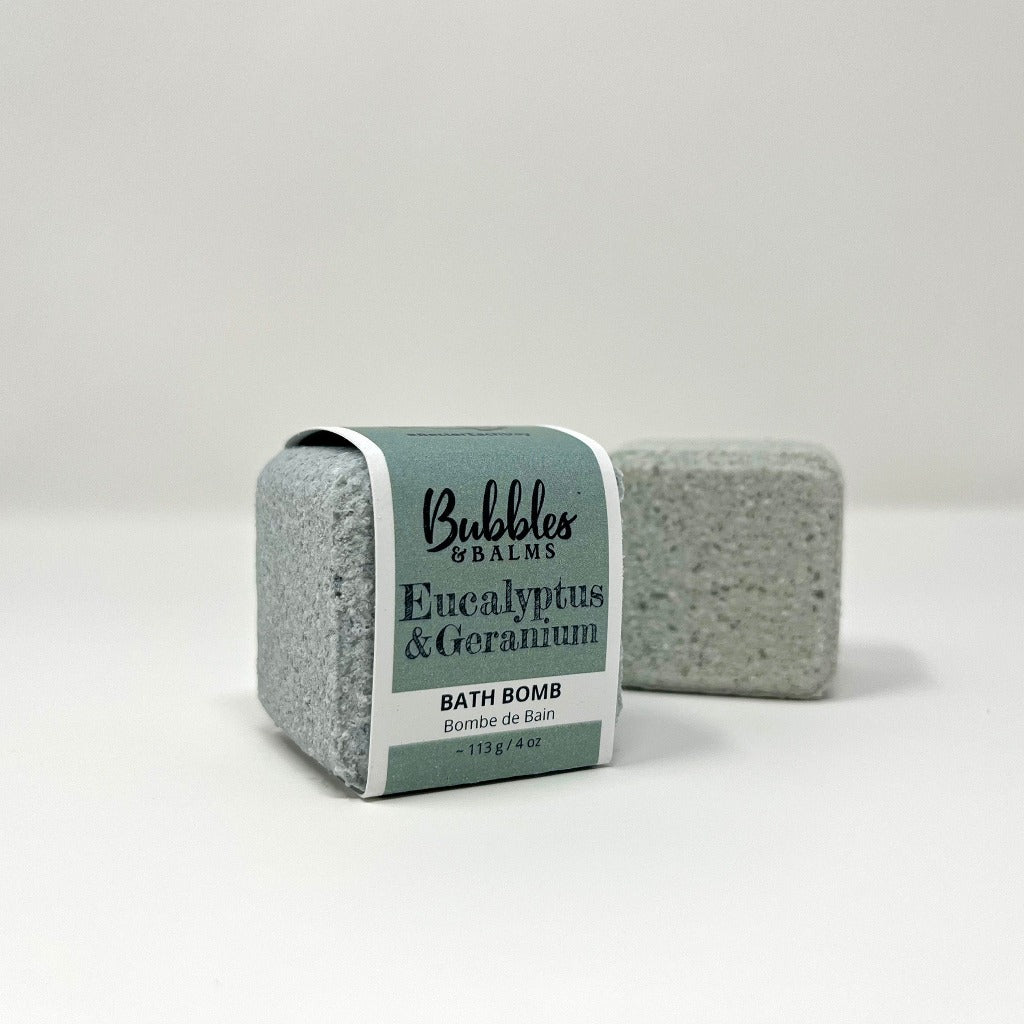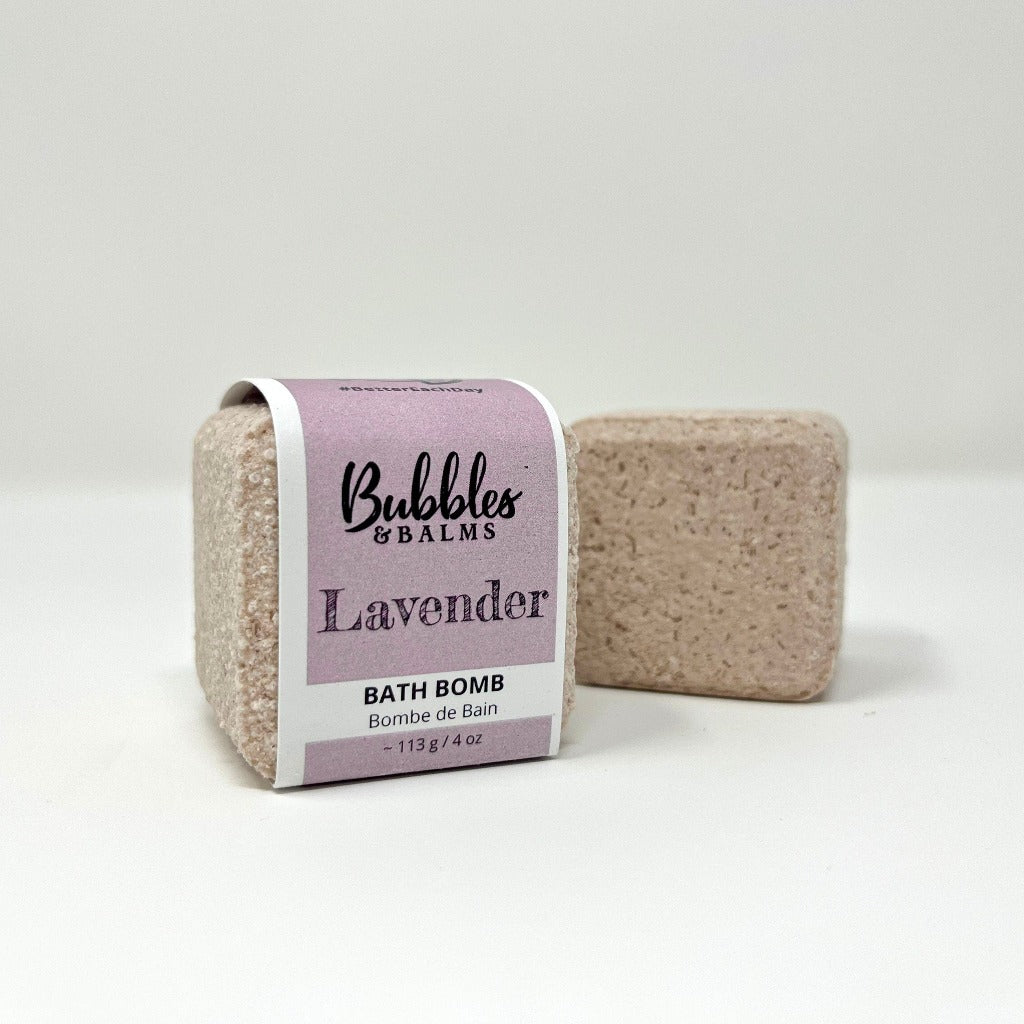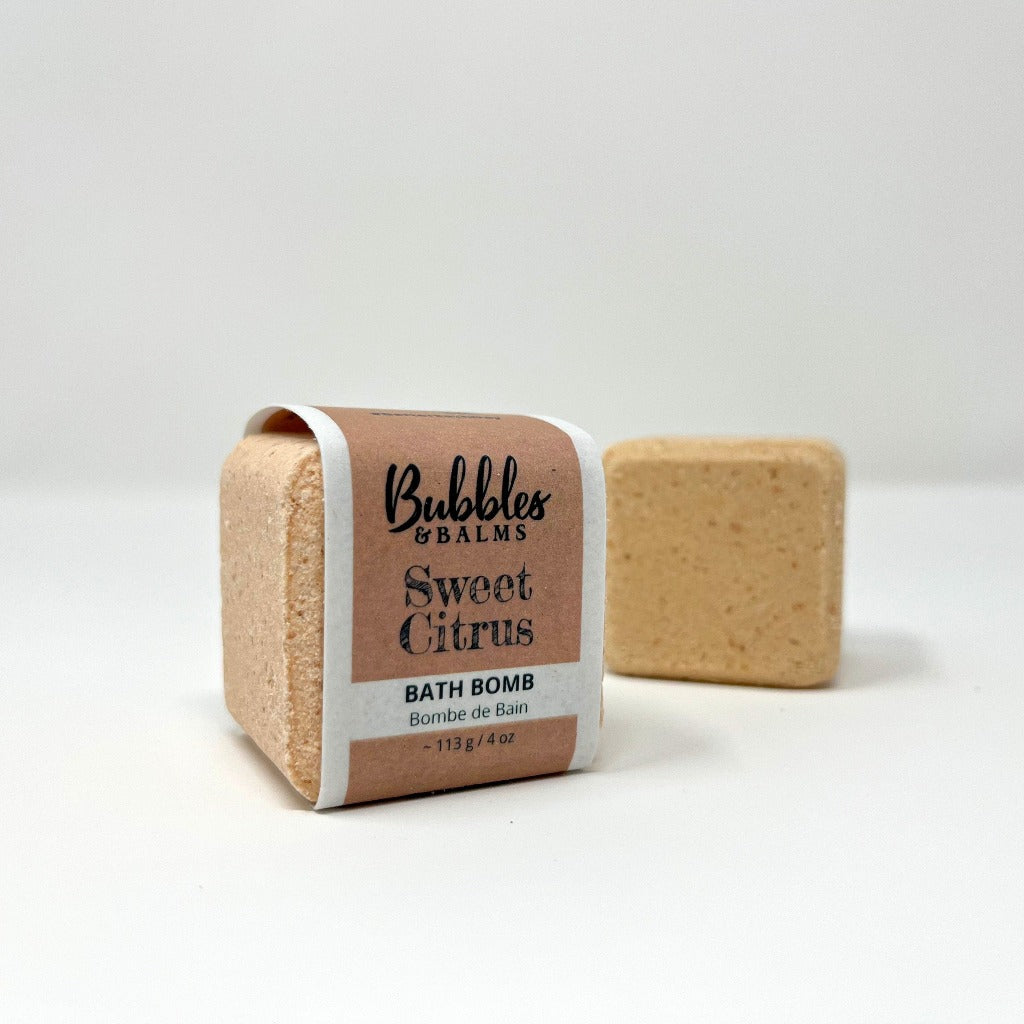 Best bombs
The bath bombs are such a great way to relax and unwind. They smell beautiful and leave your skin so soft.
I already wrote a review.
Thanks for sharing some love for our Bath Bombs as well as our Bubble Truffles, Lynn!! <3
Eucalyptus & Lavender Bath Bombs
I've tried both of them and made a reaction! It was my first time making a reaction of bath bombs as I've tried many products in the past and it didn't made rashes like that! Before making a review I've contact the company to tell what had happened. So they told me to try the butter bombs & I will try them later on for sure but anyway it made my skin very itchy. I'm a technician in Quality Control that's my trade lol I test products. Not all ingredients in a product are made for everyone I guess we can made reactions to à substances.
Hi Diane! Thanks again for sharing your experience. As we talked about, the common ingredients with allergen potential between the two bombs are Sunflower Seed Oil, Witch Hazel, and Vitamin E. A small patch test on the interior of your forearm, the size of a quarter or so, where you dab the pure ingredient on the skin and wait 15 minutes to observe for any reaction is an at-home way of testing to find the culprit.
From the sounds of the itch and rash and how beneficial Benadryl was in eliminating symptoms, it was an allergic reaction indicating reactive, rather than sensitive, skin, with sensitivities usually presenting more dryness, inflammation, and broken skin barrier.
Reactive skin often presents as a sudden rash, stinging, itching, and papules or bumps on the affected area, ie - where the product was applied when discussing cosmetics and personal care products.
Given the 3 ingredients with allergen potential, we would recommend avoiding the bath bombs and sricking with bubble truffles, as none of those three ingredients are present: https://www.bubblesandbalms.ca/collections/bubble-truffles/products/bubble-truffle
Thanks again, Diane, and take good care!
I tried my coconut orange bath bomb for the first time last night and I'm already wishing I ordered a lot more. They are amazing! My skin felt so soft and moisturized and the scent is delightful!
Thanks for making our day, Pat, with this great review of our Bath Bombs!! They're made with dry & sensitive skin in mind with the perfect blend of fizzy enjoyment and skin-softening minerals with the gentlest natural aromas. We're happy they're making bath time a delight!
Bath Products
I purchased bath bombs and bubble bath truffles, I certainly enjoyed them and will be ordering again!
Thank you for trying our Bath Bombs and Bubble Truffles, Elizabeth! Each one will soften your skin, soothe itch and irritation, and deliver amazing natural aromas...all while staying super safe for sensitive areas like below the belt!
Enjoy your bathing and thank you for sharing this review!
Take good care