Timeless - Vegan Night Cream
Regular price

Sale price

$24.95
90 mL
A daily-use, oil-based moisturizing cream that won't clog pores as it nourishes the skin. 
Benefits
Replenish your skin with vitamins and minerals.

Improve skin tone and firmness.

Nourish your skin with natural butters.

Feel good doing good with compostable packaging.
Full Description

Luxurious natural face care made with the best ingredients for reclaiming your skin's natural glow. Smooth fine lines from environmental stress with the vitamins and minerals of rosehip oil and antioxidants, fatty acids and beta carotene found in carrot seed essential oil.

This oil-based moisturizing cream doesn't clog pores as it nourishes your skin. Vitamin E works to improve your skin's appearance, while the oil-based formula makes a little bit go a long way. Reduce packaging and products with this long-lasting daily moisturizer fit for dry & sensitive skin.
How To Use

For best results, dampen skin before applying. A small amount is all you need. Dab your finger in the jar once and then place the cream on each cheekbone and your forehead. Massage into skin with a gentle, circular motion.
Ingredients

*Simmondsia Chinensis (Jojoba) Seed Oil
*Prunus Amygdalus Dulcis (Sweet Almond) Oil
*Rosa Canina (Rosehip) Oil
Mangifera Indica (Mango) Seed Butter
Stearic Acid
Euphorbia Cerifera (Candelilla) Wax
Tocopherol (Vitamin E)
*Lavandula Angustifolia (English Lavender) Oil
*Rosmarinus Officinalis (Rosemary) Leaf Oil
*Pelargonium x Asperum (Geranium) Oil
Daucus Carota Sativus (Carrot) Seed Oil

*Organic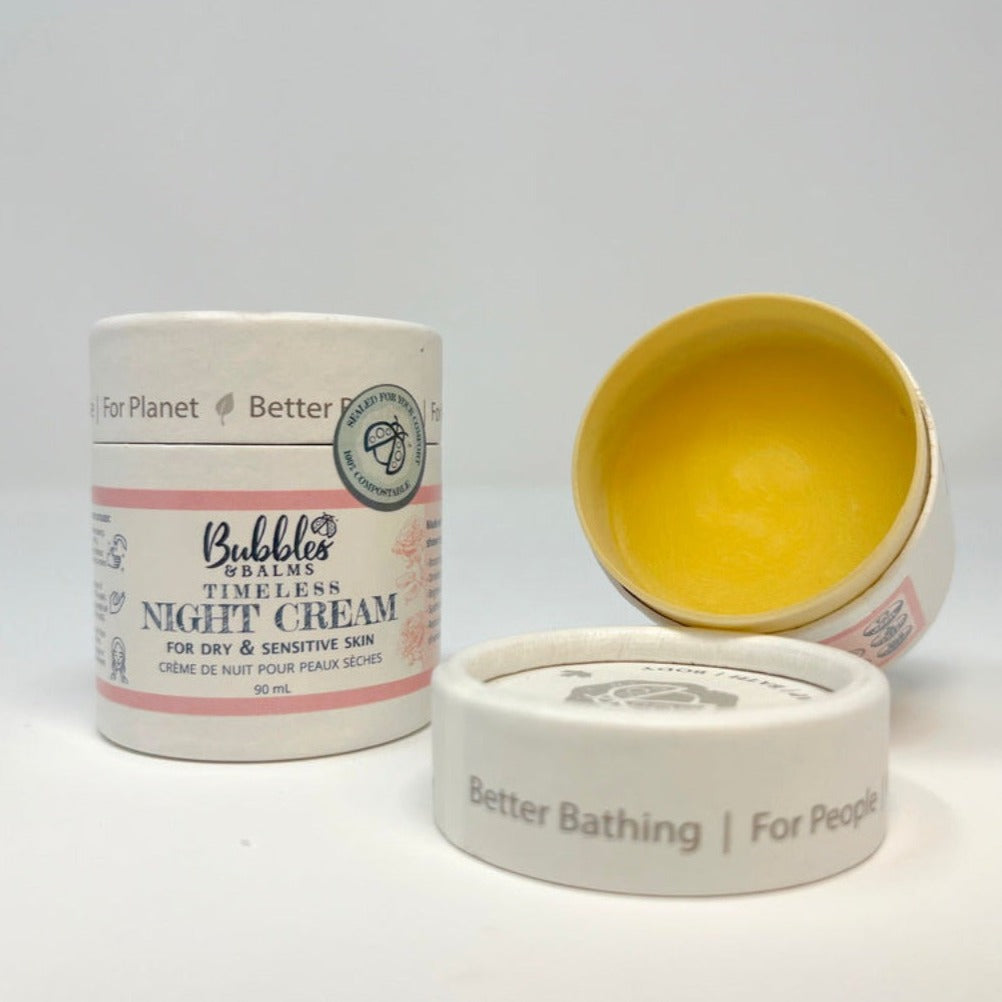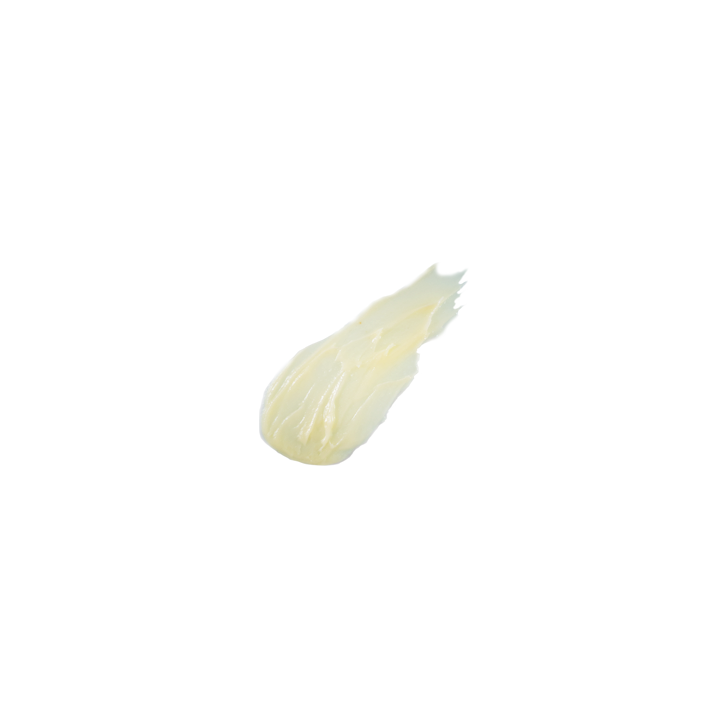 Great night cream.
They have the best products.. So natural and nice smelling..
Thanks, Annette, for this kind and caring review! We're proud of the great smells we create that are gentle enough for the care and comfort of the most dry & sensitive skin. It's awesome to know that you're enjoying them and thanks again for popping by the site to tell others!
Bubble love
This stuff leaves my face feeling so soft afterwords! I plan on gifting this to my loved ones. Gotta share that bubble love!
Thanks for sharing some bubbly goodness with loved ones!! That is our favourite way to grow the number of people gaining comfort and confidence with Bubbles & Balms! We appreciate your review on our Timeless Night Cream, Rachel, and hope you take good care <3
Love this night cream!
This is my go-to for my nightly self-care routine. Love the texture, subtle scent and how it makes my skin feel. Highly recommend it!
Hey Lisa! We appreciate you popping by to leave this review of our Timeless Night Cream! The organic Rosehip, Jojoba, and Sweet Almond oils are all wonderful ingredients for conditioning the skin and the benefits improve with regular use. They work hard to comfort your skin in the evening and leave confident skin by morning!
Love it! I wake up with my skin feeling soft and the smell is very relaxing.
Hi Rebecca and thank you for this great review of our Timeless Night Cream! Organic rosehip oil is rich in vitamin A and C and they are both essential for the production of collagen and maintaining soft, supple skin. We're happy to hear it's working so well for you!
Love it!!
This cream is amazing! I purchased it this fall, in hopes of using it on my irritated skin this winter.. and it did not disappoint! I love daily outdoor walks in the winter, but have always struggled with red, blotchy and irritated skin on my face after being out in the cold. I started applying this cream before going outdoors, and my skin's condition has improved soooo much! I've tried many products in the past, but this one is a miracle! It's rich, soothing, and comforting. Thank you for creating such great natural products!
This is the power of Rosehip Oil, Mango Butter, and oil-based formulations!! Thank you for sharing this experience, Laura, and highlighting how a little protection before exposing your sensitive facial skin to the cold can eliminate the tightness, barrier disruption, and irritation that results from unprotected skin. We love that your experience with our Timeless cream has been so soothing and comforting! Here's to life and skin that's Better Each Day!